The Silent Step
Talk

0
3,362pages on
this wiki
The Silent Step is a quest available in Kingdoms of Amalur: Reckoning.
Walkthrough
Edit
Go the The Star Camp in Dalentarth after completing The Guided Hands.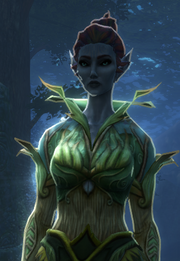 Pray at the Hierophant Statue
Pray at the Hierophant Shrine. You will be asked to steal Buru's Boots, a pair of magical footwear belonging to Ametair, but first you must find him.
Meet with Aergase
Aergase, Ametair's herald, can be found in The Sidhe overlooking the entrance to Aodh. She tells you that you must travel to Arduath to kill him and retrieve the boots.
Go to Arduath
Travel to Arduath, in the northernmost area of The Sidhe. When you enter you will open a door and begin hearing Ametair's Voice. You will have a chance to persuade him, but he will inevitably tell you that he cannot give you the boots and you will have to kill him before he can give them up.
A successful persuasion will give you the unique amulet named, The Hunter's Friend (+6% Damage with Ranged, +6% Damage Beasts, +1 Stealth)

Kill Ametair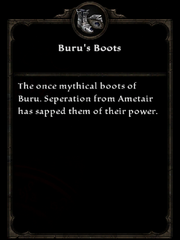 To get Buru's Boots, you will have to engage and kill Ametair. As you bring him down in health, he will open a series of doors while stealthed. This will lead to four rooms where you follow him to continue the fight.
Recover the Boots
Loot the Buru's Boots from Ametair's body.  Note :  Ametair will only drop the boots and nothing else, unlike most bosses.
Return to Crilgarin
Bring the boots back to Star Camp and give them to Crilgarin, and she gives you the information for the next quest (as well as some level-dependant Gold & XP for completing the quest).
Use a ranged weapon against Ametair, to keep out of range of his Faeblades.
Do not use Fate Shift until the last room of the fight. Using it at the start will let it run out before you can get the XP boost.
Ametair's faeblades can cause you to Bleed, so be careful that you don't get hit.