The Siege of Moondown is a quest available in Kingdoms of Amalur: Reckoning.
Description
Edit
Camp Moondown is all that keeps the Tuatha from retaking the Caeled Coast and reentering Klurikon. I must join in its defense.
Walkthrough
Edit
The Healer
Edit
The Blacksmith
Edit
The Mercenaries
Edit
The Final Stand
Edit
The final task is a morale-boosting speech from the Siegebreaker before the Tuatha's final push.

Choice of speech options do not seem to make a difference.  The crowd cheers the most after a successful persuasion option, but that is all the difference.

After the speech, the camp is attacked one last time : 3 Tuatha Zealots, 2 Tuatha Overlords and 2 Bolgan Thugs.
When the battle is over, the Fateless One should speak to Captain Canwen to finish the quest (XP and Gold, both level-based ~4300 and 7250 at level 39, and a random weapon).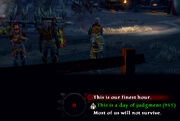 The Breath of Arba is useless, but it's automatically removed from inventory anyway as soon as the Fateless One leaves the Whispering Caves with Anella Saff.
The speech scene is actually bugged on some platforms (confirmed for PC and xbox 360 version), and the Fateless One can be seen standing in the crowd, with the podium empty.
There's another bug (encountered on PC, the Xbox 360 and PS3) causing Anella Saff to stand in front of the platform permanently. There's no more dialogue with her and she does not offer Repair services as she's supposed to.