Reckoning (mode)
Talk

0
3,233pages on
this wiki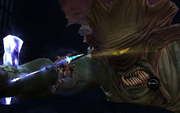 The Reckoning mode is attained when the player has the Fate Energy bar full. To enter Reckoning mode, the player must hold "X" on PC, ("RT" and "LT" together on Xbox 360, "R1" and "L1" together on PS3) until it activates. Reckoning mode makes the player significantly stronger by manipulating the threads of fate thus overpowering the opposing threats.
If the player does not Fateshift an enemy (By pressing "F", "A" or "X" on PC, Xbox 360, or PlayStation 3 respectively, on the beaten enemy) in time, all of the beaten enemies will stand back up, this causes Reckoning mode to be wasted as well as a huge amount of experience to be had.
Some enemies can die without being Fateshifted in this mode, dropping an Essence of Fate.
In The Legend of Dead Kel DLC the reckoning mode is given another use. The Fateless One can enter reckoning mode in order to open a new type of hidden door - the Fate Door.