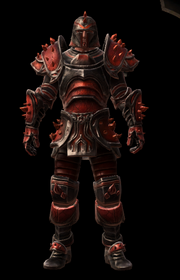 can be obtained at Odi's Camp from Brun
the Bard for a rather demanding fee.
A Prismere Helmet can also be obtained in Rathir at Gwalchmai's Goods from Galen Gwalchmai.
Chest / Legs / Feet / Shield
Edit
Can be bought from Cyf Cadyr at Rathir in the blacksmith's shop.
Most can be purchased from Marisal Cadyr at Rathir, who happens to be very near to Cyf.
Ad blocker interference detected!
Wikia is a free-to-use site that makes money from advertising. We have a modified experience for viewers using ad blockers

Wikia is not accessible if you've made further modifications. Remove the custom ad blocker rule(s) and the page will load as expected.