Niskaru Bloodhunters are the weakest of the Niskaru in health but the strongest in terms of attack strength.
They can be found during the Warsworn storyline and can be seen across the main storyline.
According to in-game information, Niskaru Bloodhunters enter a rage when they smell fresh blood and are immune to Bleeding Damage themselves.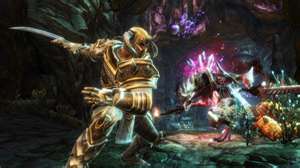 Ad blocker interference detected!
Wikia is a free-to-use site that makes money from advertising. We have a modified experience for viewers using ad blockers

Wikia is not accessible if you've made further modifications. Remove the custom ad blocker rule(s) and the page will load as expected.