Narit Wyle is an NPC in Kingdoms of Amalur: Reckoning.
Description
Edit
Narit Wyle is an Advanced level Lockpicking Trainer, and a Ljosalfar worker on The Walls living in the Hospitalis Quarters in Adessa.
Usually found standing around the Hospitalis Quarters in Adessa.
He can train the Fateless One in advanced lockpicking training, teaching anywhere between level 4 to 6.
Bug: Sometimes, the trainer option will not appear, and dialogue options are limited. This appears to be related to his position in the building. When he was on the second floor, training was unavailable. When he was on the first floor, training was available, and his dialogue options had been reset.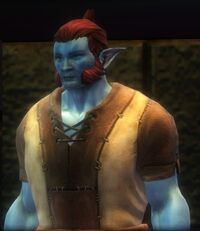 Ad blocker interference detected!
Wikia is a free-to-use site that makes money from advertising. We have a modified experience for viewers using ad blockers

Wikia is not accessible if you've made further modifications. Remove the custom ad blocker rule(s) and the page will load as expected.