Mirror
is an item in
Kingdoms of Amalur: Reckoning
.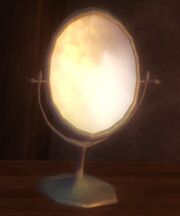 Description
Edit
Mirrors are located in Player Homes and give the Fateless One the ability to change minor appearances.
Customize Appearance
Edit
Mirrors allow players to customize the following features of their character's appearance:
Eyeshadow
Eyeshadow darkness
Lipstick color
Lipstick intensity
Hair
Hair color
Eyebrow color
Jewelry
Tattoo
Tattoo color
Tattoo intensity
Ad blocker interference detected!
Wikia is a free-to-use site that makes money from advertising. We have a modified experience for viewers using ad blockers

Wikia is not accessible if you've made further modifications. Remove the custom ad blocker rule(s) and the page will load as expected.