Lyria's Cowl
Durability
38
Armor Rating
22
Rarity
Set Piece
Type
Cowl
Requirements
Sorcery 10
Effects
+15% Mana Regen per Sec

+1 Mana Regen per Sec
Lyria's Cowl
is an
armor piece
in
Kingdoms of Amalur: Reckoning
.
Description
Edit
Lyria, the patron goddess of the Dokkalfar, is also favored by aspiring spellcasters and enchanters.
+15% Mana Regen per Sec
+1 Mana Regen per Sec
Lyria's Armor Set provides the following Bonuses:
2 Pieces: +25% Mana
3 Pieces: +25% Health
4 Pieces: +12% Elemental Resistance
Lyria's Cowl can be found randomly in chests or on monsters.
One possible location is shown in the screenshot.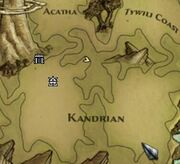 Ad blocker interference detected!
Wikia is a free-to-use site that makes money from advertising. We have a modified experience for viewers using ad blockers

Wikia is not accessible if you've made further modifications. Remove the custom ad blocker rule(s) and the page will load as expected.