Laest Noster
Talk

0
3,520pages on
this wiki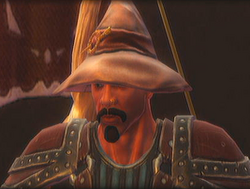 Laest Noster
Have a picture of Laest Noster?
Then please upload it!

Basic Info
Gender
Male
Location
Blue Bear Tavern
Laest Noster is an NPC in Kingdoms of Amalur: Reckoning.
"Got any coin to spend? How's for a quick fate-read? Got the cards all ready."
Laest Noster is a human Fateweaver located in the Blue Bear Tavern in Emaire. He's not from Emaire and is just passing through. He's not happy about the Freemen bandits.
As a Fateweaver, he can reset your skill points and ability points for a fee.