King's Token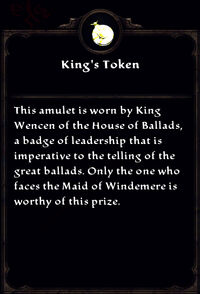 King's Token is an Item in Kingdoms of Amalur: Reckoning.
Description
Edit
This amulet is worn by King Wencen of the House of Ballads, a badge of leadership that is imperative to the telling of the great ballads. Only the one who faces the Maid of Windemere is worthy of this prize.
It is not possible to store the King's Token in the stash once obtained, although it can be sold.
Ad blocker interference detected!
Wikia is a free-to-use site that makes money from advertising. We have a modified experience for viewers using ad blockers

Wikia is not accessible if you've made further modifications. Remove the custom ad blocker rule(s) and the page will load as expected.