Khas-ti's Helm
Durability
46
Armor Rating
120
Rarity
Set Item
Type
Helmet
Requirements
Might 25
Effects
+5% Melee Block Efficiency
+10% Fire Resistance
+10% Ice Resistance
+10% Lightning Resistance
+30 Health
Khas-ti's Helm
is an
armor piece
in
Kingdoms of Amalur: Reckoning
.
Description
Edit
This helm belonged to a mystical female warrior with an uncanny mastery over the elements.
+5% Melee Block Efficiency
+10% Fire Resistance
+10% Ice Resistance
+10% Lightning Resistance
+30 Health
Khas-ti's Helm belongs to Jack of All Trades Armor Set and provides the following bonuses: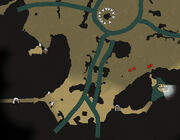 Khas-ti's Helm can be found in a grave in the southern part of Cradle of Summer. A hidden door opens up a path that leads to the grave.
Ad blocker interference detected!
Wikia is a free-to-use site that makes money from advertising. We have a modified experience for viewers using ad blockers

Wikia is not accessible if you've made further modifications. Remove the custom ad blocker rule(s) and the page will load as expected.