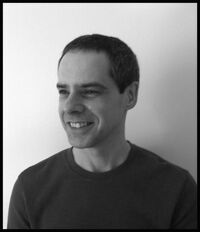 Grant Kirkhope is a British video game music composer, known for writing the soundtracks for numerous games by Rare, such as 007 GoldenEye, Banjo-Kazooie, Donkey Kong 64 and Perfect Dark.
He joined Big Huge Games, as audio director for their RPG project which is now known as Kingdoms of Amalur: Reckoning and is currently recording the score with The City of Prague Philharmonic Orchestra.
External links
Edit
Ad blocker interference detected!
Wikia is a free-to-use site that makes money from advertising. We have a modified experience for viewers using ad blockers

Wikia is not accessible if you've made further modifications. Remove the custom ad blocker rule(s) and the page will load as expected.