Glowlode Mine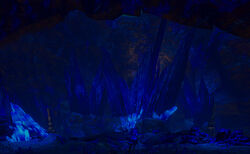 Basic Info
Glowlode Mine is a location in Kingdoms of Amalur: Reckoning.
Description
Edit
Glowlode Mine is an old mine in Alabastra. Its tunnels connect the Shadow Pass to the Twilight Pass.
QUESTS:
The quest Esha is available by traveling either through the northern entrance hidden door and going through the entire cave, or waiting until you travel the Pass' main road and come upon the quest giver for Gask and enter the Southern entrance.
Alabastra, between Shadow Pass and Twilight Pass.  The entrance is behind a hidden door southeast of the Tuatha camp.  The Twilight Pass entrance is north of Ashmoor.
The following reagents can be found in Glowlode Mine:
Chest (unlocked) x 1
Chest (Hard) x 1
Chest (Very Hard) x 1
Skeleton x 2
Whirlpool x 4
The mine can be cleared before accepting Esha's Quest, but all enemies will respawn.
Ad blocker interference detected!
Wikia is a free-to-use site that makes money from advertising. We have a modified experience for viewers using ad blockers

Wikia is not accessible if you've made further modifications. Remove the custom ad blocker rule(s) and the page will load as expected.