Ad blocker interference detected!
Wikia is a free-to-use site that makes money from advertising. We have a modified experience for viewers using ad blockers

Wikia is not accessible if you've made further modifications. Remove the custom ad blocker rule(s) and the page will load as expected.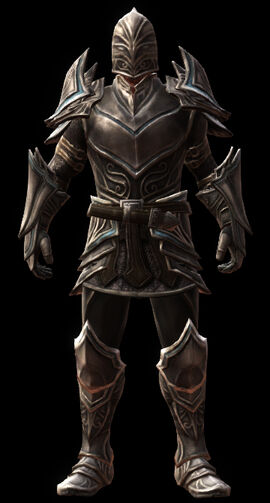 Anshelm Faehunter swore to hunt the 'godless Fae' to extinction. The Fae, admiring his courage and armor, cheerfully slew him from ambush.
Cuirass of the Faehunter

Durability: 48

Defense: 255

Requirements

Might

Finesse

Sorcery

33
0
0
+10% Block Efficiency
+1 Stealth
Chausses of the Faehunter

Durability: 48

Defense: 130

Requirements

Might

Finesse

Sorcery

33
0
0
+5% Melee Block Efficacy
+10% Chance to Stun
Helm of the Faehunter

Durability: 48

Defense: 132

Requirements

Might

Finesse

Sorcery

33
0
0
+5% Melee Block Efficacy
+25 Armor
Gauntlets of the Faehunter

Durability: 48

Defense: 64

Requirements

Might

Finesse

Sorcery

33
0
0
+5% Melee Block Efficacy
+10% Elemental Resistance
Greaves of the Faehunter

Durability: 48

Defense: 66

Requirements

Might

Finesse

Sorcery

33
0
0
+5% Melee Block Efficacy
+5% Critical Hit Damage
Set Bonus
Edit
| Pieces : | Bonus : |
| --- | --- |
| 2 | +10% Melee Block Efficacy |
| 2 | +10% Ranged Block Efficacy |
| 2 | +10% Magic Block Efficacy |
| 3 | +2 to Might Abilities |
| 4 | +25% Physical Damage |