Fae
Talk

5
3,362pages on
this wiki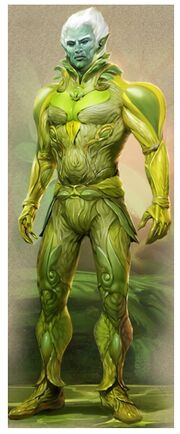 The Fae are a collection of magical creatures that inhabit the Faelands. They range from the bothersome Boggarts to the courts of Winter and Summer to the mighty Trolls. The songs of the House of Ballads only incorporate Fae, the most common being the two courts and Trolls. 
Among the Fae there are two main factions: the Winter Fae, which embody the natural decay of all things; and the Summer Fae, which represent growth and rebirth.
The lesser fae of Brownies, Boggarts and Barghests do not appear to have any type of heirarchy. Some groups of trolls contain Matriarchs which rule over them. The Courts each have their own kings who rule eternally over their people.
The lives of the Fae revolve around nature. 
Their beliefs and way of life relies entirely on what they call 'The Great Cycle', and what we may refer to as the cycle of seasons. The Great Cycle is the eternal renewing of nature, and an endless flow of spirits and magic. As beings of pure magic, their 'souls' go back to this cycle, and they are reborn in a Hollow when their time is due. 
History
Because the souls of the Fae are immortal and they are newly reborn every time they die, they follow a close pattern in their loves, called the Ballads. Each ballad tells the story of the life of the Fae, with one or more specific individuals as a main character. The Fae live by these Ballads, and fullfil them each time they are reborn.
Their knowledge is kept in Lorestones, and isn't written, but is revealed by touch, directly spoken into to 'reader's' mind.