Ciara Sydanus
Talk

0
3,402pages on
this wiki
Ciara Sydanus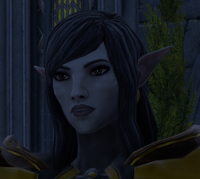 The Dark Emperyan
Basic Info
Ciara Sydanus is an NPC in Kingdoms of Amalur: Reckoning.
Description
Edit
Ciara Sydanus also known as the Dark Empyrean, was trapped under the Scholia Arcana in Rathir a long time ago.
Ciara Sydanus is a powerful witch who can take over the minds and bodies of others. She does this to control them and get the power she needs to break the chains of the spell she is kept in with is under the Scholia Arcana.
Ciara Sydanus is a boss that must be defeated in the quest Revelation. She is also the final boss of the Scholia Arcana questline.
The fateless one has a short encounter with her during his initiation rite for the Scholia Arcana