Character Builder
Talk

1
3,487pages on
this wiki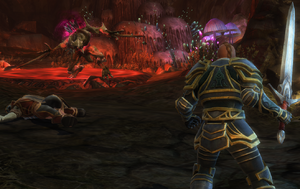 Links to player-made builds using Skill Build Calculators.
The following example is used to describe each build listed on this page:
Example
Link - Destiny - Build Description
Character Builder Links
Edit
Blank Template
Skill Build Calculator(this site no longer exists)
Greatsword focus - Warlord - Virtually impossible to kill with fully upgraded Relentless Assault, great AoE and 1v1 damage
Might-FinesseEdit
Might-SorceryEdit
Focus on Envenomed Edge, Inoculation and +poison damge weapons (daggers and bows). Amazing 1v1, especially with mastercrafted weapons. 

Added defense in case of overwhelm.
Poison Dagger Focus - Blademaster - This build focuses on Daggers with the following properties: crowd control, poison, stealth, stun. There is only one point in each Precise Weaponry Tier, because the other two points can be covered by equipment. Some points can be distributed differently:
Finesse-SorceryEdit
DOT Focus - Shadowcaster - Focuses on spreading poison and bleed among all enemies. Can double assassinate using smoke bomb. Additional DOTs added with use of Frost Trap and/or fire weapons
Archmage - - Mage with minimal Might abilities added for survivability
Sorcery-FinesseEdit
Sorcery-MightEdit
Martial Mage - Champion - A Chakram/Staff wielding mage that uses Might abilities to enhance his weapons and survivability