Boggarts
Talk

0
3,770pages on
this wiki
For special types of Boggarts, please visit their individual pages below
Description
Edit
Boggarts are woodland creatures, seen more often early in the game than later. They are rather weak and often travel in small groups of 3 to 5. They are shock element creatures and are very susceptible to fire attacks.
Average HP:
Strength: Shock
Weakness: Fire
Attacks: Claw Slash;
Location: Dalentarth / Odarath
Difficulty: Very Easy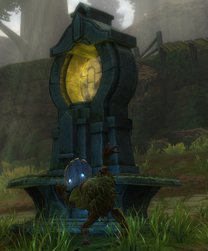 It seems that Boggarts are either religious, or drawn to shrines around Amalur. They can sometimes be seen standing close to a shrine and swaying back and forth with their arms held up and muttering what sounds like chanting.
While Boggarts are merely a nuisance they can become quite troublesome when fighting alongside a Thresh being able to interrupt combos or stun the Fateless One enough for the Thresh to attack or recover and fallback.