Blacksmithing
Talk

4
3,397pages on
this wiki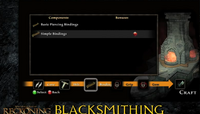 Blacksmithing is a Skill that allows you to forge new equipment for your character as well as use Repair Kits more efficiently.
Weapons and Armor lose durability when used and eventually require repair. Weapons and armor provide the same damage/protection regardless of current durability until they break completely (durability drops to zero). Repairing equipment at NPCs costs gold, and the price increases the worse condition the item is in. Repair Kits can be bought for under 100 gold at various blacksmithies and used to fully repair an item no matter the condition, making them a much better investment. While relatively cheap, Repair Kits are best saved for high-quality items which might require lots of gold to be repaired by NPCs, or for repairs in the field when returning to an NPC is not possible.
The first milestone in Blacksmithing unlocks the option to find materials on certain animals, and additional components can be salvaged from weapons or armor. At level 3 infrequent items can be salvaged and level 6 unlocks rare items. Unique (non-dlc) may some times be salvaged.
To create an item a "core" component is needed along with a second component and up to two additional components. At level 7, gems can be infused into equipment during creation (they are not removable once used). Once all the components are selected, the overall quality of the item and its damage/armor will be calculated based on the components and gems used as well as the player character's level. Item requirements are calculated once the crafting is finished.
The following sections present the various pieces of data related to blacksmithing, or an alternative presentation in the form of a spreadsheet can be found here.
Skill Points
Edit
Every skill point invested in Blacksmithing increases the effectiveness of Repair Kits. Additionally, there are 7 milestones which provide extra bonuses:
Skill Points

| Points | Milestone |
| --- | --- |
| 1 | You can now harvest components from some enemies in the world. |
| 2 | You can create an item with three components, giving it a slight bonus. |
| 3 | You can salvage infrequent equipment. |
| 4 | You can create an item with four components. |
| 6 | You can salvage rare equipment. |
| 7 | You can use gems as components when crafting equipment. |
| 10 | You can create "mastercrafted" equipment. |
Component quality
Edit
| Component Level | Tier 1: | Tier 2: | Tier 3: | Tier 4: | Tier 5: |
| --- | --- | --- | --- | --- | --- |
| Hide | Leather | Boiled Leather | Studded Leather | Trollhide | Dreadscale |
| Cloth | Cotton | Linen | Silk | Hexweave | Spiritweave |
| Metal | Iron | Steel | Azurite | Sylvanite | Prismere |
| Wood | Birch | Elm | Oak | Ash | Ebony |
| Precious Metal | Copper | Bronze | Silver | Gold | Platinum |
Note: There are Primal Core Components (for weapons only) from The Teeth of Naros DLC which have 3 different tiers. The best has slightly better stats then Prismere or any other Tier 5 weapon component, also there's this addition of Primal Damage (for sorcery class weapons Primal Core Component, the elements such as Fire are replaced with Primal)
Components
Edit
Finesse Armor Components
Edit
Might Armor Components
Edit
Sorcery Armor Components
Edit
Weapon Components
Edit
Forging Components
Edit
It is possible to forge components with specific traits through specific coupling of components (and gems). A desired quality from a gem or a component can be transfered to another component only through very specific combinations of parts and with some luck. The complete list of interactions are still unknown, but some known interactions are listed below. Feel free to expand.
See also Analysis of salvaging gems Expanded gem/ smithing guide Making 100% immune gear
The process is as follow:
Forge an item that uses the component you want to extract as the second component (there are apperently some exceptions to this rule, such as the formula for Flawless Amplified Bindings) :

If you want to transfer a quality from another component, use that component as the third or fourth component, while skipping the other components (2 mandatory components + 1 and no gems).
If you want to transfer a quality from a gem to a component, use only the first two components and the gem.

Salvage the forged item for a chance to forge a desired component.  Save and re-load will be your friend on this one (in other words, patience).
Note: The quality of the forged component somehow depends on the quality of the ingredients. Details are not exact at the moment.
List of known interactions:
| Salvaged Item | Core | Required | Quality Component |
| --- | --- | --- | --- |
| Master Slaughtering Fulcrum | Curved Sylvanite Blades | Basic Fulcrum | Gem of Slaughter |
| Flawless Magnifying Rivets | Prismere Brace | Weak Rivets | Gem of Precision |
| Flawless Amplified Bindings | Large Prismere Blade | Crude Hilt | Gem of Amplitude |
This also works for Flawless Sustaining Grip/Binding, Flawless Strengthening Grip/Binding/Rivets, Flawless Restoring Grip/Binding/Rivets and Flawless Divine Grip/Rivets : A core piece (tried Azurite/Ash/Hexweave) + Required (weak/basic) grip+ skipped the other two(2) components + Gem (Regenerating/Hero/Rejuvenating/Oracle) - It is possible to get two(2) components with the desired trait for a single salvage with this method (tested and confirmed on XBox360 03/11/2013).  Also, it is theoritically possible to get unmentioned binding/rivets from these same interactions (like Flawless Sustaining Rivets or Flawless Divine Binding), but this as not been tested or confirmed.
NOTE : The quality of the core item does not have to be Prismere/Sylvanite, it can be Azurite or lower and still yield the same desired Flawless/Master component.
ADD (The research continue, 2013):
I learned from several outdated and incomplete guide, and finally from my own playthrough, that you can salvage any component as long as:
1. The component is there in the item code list (like you won't find Flawless Everlasting Rivets nor any weird bonus on random loot gear. Search the component on its respective page to make sure)
2. The gear piece you are going to salvage contains said component (salvaging Cuirass will give you either one or all of Lining / Rivet / String, you cannot get any Bindings from a Cuirass)
If you are sure that you have met both conditions above, then it's all goes down to luck. Note that salvaging primary support component (let's take example I'm salvaging a cuirass so lining it is ) has generally higher chance. The first additional support component (such as rivets for cuirass) has lower chance to be found. And the second addtional support component (such as string for cuirass) has very slim chance. You can look at the components table above for specific gear and it's components + gem:

Using the data above, through hard work (saving and loading) also sheer luck you can:
Salvage any salvageable component from any non purple / golden gear.
Transfer from gem to component with exact same property, ie: Galvanizing Gem (Weapon Gem with +30 Physical Damage) into Flawless Damaging Hilt (+30 Physical Damage) via Greatsword; Gem of Amplitude into Flawless Amplified Bindings and Rivets (you can get both in single salvage).
Transfer property from one type of component to other. In this case I successfully tried transfering:

2nd additional support component into primary support component, ie: Flawless Energizing Bindings to Flawless Energizing Grip using Gloves (any random [required] primary support will do)
1st additional support component into primary support component, ie: Flawless Damaging Rivets to Flawless Damaging Grip using Shield (any random [required] primary support will do)
2nd additional support component into 1st additional support component, ie: Flawless Slaughtering Bindings to Flawless Slaughtering Rivets using Longbow (any random [required] primary support will do)
primary support component into primary and 1st additional support component (duplicating), ie: Flawless Damaging Grip to Flawless Damaging Grip + Bindings via Talisman

Ultimately you can craft your own Uber Gears from those components!
Mastercrafting
Edit
Mastercraft is obtained through the very last skill of blacksmithing. The bonus effect type depends on the core component, and the strength of the bonus depends on the tier of the core. The bonus is independent of class (finesse, might, sorcery) or quality (i.e. is the same for Infrequent and Rare crafted items).
The following table gives a list of items and their mastercraft bonuses.
| Item: | Bonus: | Tier 1: | Tier 2: | Tier 3: | Tier 4: | Tier 5: |
| --- | --- | --- | --- | --- | --- | --- |
| Arms | Mana | +5% | +8% | +10% | +12% | +16% |
| Chest | Physical Resist | +5% | +8% | +10% | +12% | +16% |
| Feet | Health | +5% | +8% | +10% | +12% | +16% |
| Head | Experience | +2% | +3% | +4% | +5% | +6% |
| Legs | Bleeding Resistance | +5% | +8% | +10% | +12% | +16% |
| Shield | Block Efficiency | +5% | +8% | +10% | +12% | +16% |
| Weapon | Damage | +3% | +4% | +5% | +6% | +7% |
There are four total trainers for Blacksmithing found throughout The Faelands. Their locations, along with who they are, are listed here.